First, let me thank the thousands people who have sent positive messages, joining Jasmine's facebook group and contacting me directly, your support has been overwhelming, from myself and my family, thank you. To the media agencies that have provided fair and balanced coverage, allowing me to get my story across, my thanks to you also.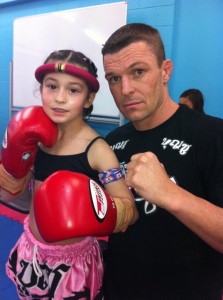 Unfortunately early on in the piece, some misreporting of facts, and publishing/ broadcasting of lies have lead to me issuing this statement to clear the air, defend my daughter's right to choose her sport, the sport of Muay Thai and ultimately my wife Angie and I as parents. If you have judged us harshly over what has been a tough week, I urge you to read on and get the facts before setting your views in stone.
First and foremost let me say I love my daughter Jasmine, she along with my wife and son Jessie are my world and Angie and I are very proud of both our kids and love and protect them dearly.
My wife and I have been professional athletes and Muay Thai fighters our entire adult lives. The life of a martial artist is not for everyone, nor does everyone understand it. We are however dedicated to a life of discipline, respect and healthy living and instil these principals to our students and children.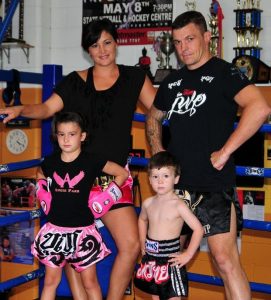 Jasmine has grown up surrounded by such people. Between my wife and I we have 10 world titles, run a world renowned, family oriented gym, and conduct regular amateur tournaments to allow people of all ages and genders to compete in a safe, open environment and raise money for a community that has given us so much support over the years.
My daughter competed for the first time in one such tournament over the weekend. She wore full protective gear from head to toe. The moment we told Jasmine she could compete was one I will never forget, she ran around the house like a kid on Christmas and instantly told all of her friends.
These events are run strictly for amateurs. They are held at Police venues and as such have a high level of police presence. The medical and security facilities are second to none and over the past few years we have been able to raise tens of thousands of dollars for the PCYC, Cancer Council and children's charities. Some media have reported alcohol consumption at these tournaments, the PCYC handle the licencing of the venue, alcohol consumption is minimal, confined to an small area and strictlty policed.

Throughout my career I have been a vocal anti-drugs campaigner. My gym has helped mums get fit, families get fit together and helped countless kids get stay out of trouble, learn manners, discipline and gain confidence. Through training with my daughter we have a bond any parent would be proud of. Its ironic that most of the tabloid media who have criticised me this week, saying things such as girls competing in Muay Thai makes them sick and that Jasmine should be taken off us, will next week fill their headlines with stories of the childhood obesity crisis and out of control teens.
Muay Thai is a martial art, just like Taekwondo and Karate. Would my family receive the same treatment if Jasmine competed in a Karate tournament? Would we receive the same negative press? Would it be different if she wasn't a girl? We have a female prime minister and in my state a respected female premier. In a country lead by capable women, what's wrong with a girl learning confidence and defence skills?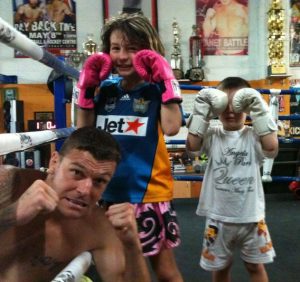 We as a society -including my wife and I- have no problem with junior rugby, afl, martial arts or other contact sports. We are proud that our daughter eats right and stays active. If the issue is that she is a girl, that is sexist, aren't we all past that?
Some outlets have mistakenly run with the line that the girls were paid to fight. This is just plain wrong. The girls were given money by members of the crowd as a mark of respect for their courage. Anyone who has been to Thailand and seen a Muay Thai show would have seen this for both men and women. Jasmine is using her money to buy a dinosaur.
Some outlets ran a picture of Jasmine in tears suggesting she was forced against her will to fight. This is another lie. I have been in the ring over a hundred times and still find walking out infront of a crowd a daunting experience at times. She was simply overwhelmed, but the nerves soon settled and she had a ball. I forwarded
many outlets a photo of both girls embracing prior to the bout with the biggest smile on their face in an unprompted show of sportspersonship. In nearly every case this was deleted -including off a prominent morning shows facebook wall-. Is this because it didn't suit their angle. One major current affairs programme that covered the story did a second edit as the first lot of footage they shot was 'too friendly'.

If you've come this far, thank you. No father who is as proud of his little girl as I am should have to defend his family like this. And no one with our records in the community and in our sport should have to defend their judgement. Unfortunately a few media outlets have skewed the story to take advantage of a strong, honest family and drag us through the mud. It's sad that they would do this, but unfortunately a story of two, strong, young clean living girls doesn't make for a good story these days.
Sincerely
'John' Wayne Parr
Father of 2 beautiful children

To show your support please visit this Facebook Link