Wow, what a fight! Lam come to fight and straight away opened up with huge elbows trying to slice my face off. I put the pressure back on him and dropped him half way through the round. After that I got his respect and made him think twice before coming in.

Round three we were on the ropes in the grapple, I just pulled his hand down and let go with a elbow, just as I started the elbow Dave Hedgecock yells break but the elbow had already started, I followed through nailing Lam on the temple dropping him bad. I got sent to the corner while Lam had time to recover, then had a point taken off for a late blow.
Roud 5 I didnt know what the score cards were doing, Lam came out smoking trying to smash me up and half way as I was throwing a combo landed another shot dropping him once more.. In the end I won on the card pretty easy but I take nothing away from Lam, he was dangerous every second and if I had of let my guard down he would of taken me out with in a second.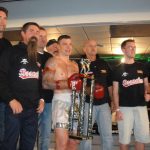 Lamsongarn was a good sport about the whole thing and a real good bloke, we went and had a beer at the casino after and had a good night. Was a nice feeling beating a world rated Thai again and looking forward to see who I am fighting next, the fire is back.