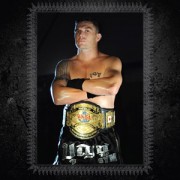 Star of The Contender Asia and 5 time Muay Thai World Champion 'The Gunslinger – John Wayne Parr' presents Locked and Loaded.
With 100 fights and over 20 years as a professional fighter John Wayne Parr is one of the world's best. JWP has released his much anticipated Muay Thai Training DVD's.
JWP teaches authentic Muay Thai technique from the fundamentals of Muay Thai to advanced partner drills and 100% power pad work including punches – elbows – knees – kicks – clinch & grapple – combinations – defend & counter.
The Locked and Loaded series also has some great bonus features including the Wai Kru, hand wraps for training, strength and conditioning and JWP talks about the meaning of his tattoos.
Locked and Loaded is the most comprehensive series on the market and not only teaches world title winning technique but also provides an insight into the life and times of John Wayne Parr through in-depth and insightful interviews.
Find out what makes a champion – inside and out.
Support JWP Purchase the DVD Here http://www.johnwayneparr.com.au