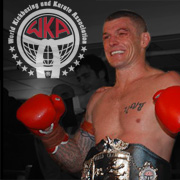 G'day Everyone,
Last Sunday I defeated one of my demons Yodsanklai for the vacant WKA world title. Yod had beaten me twice before, once in 2005 for WBC world title and once in the final of Contender Asia final, and was going for the hat trick, I went to Thailand for a month to prepare and came back fitter then ever and bought back Thailand's number one fighter Saencha to work my corner to give me that added edge. I was lucky enough to just get the points in a super close fight to take the win, with my fitness just being a little bit better then his. Right now I am possibly the happiest fighter in the world finally getting the this huge monkey off my back. Was such a tough fight though, I ended up with two cuts and 15 stitches again, plus my arm feels like it is broken from his left kicks but end of the day it's all worth it.
Thank you to everyone who has supported me over the years and hope you enjoy the photo's.
Take care to all my friends.
John Wayne Parr