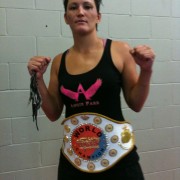 What a great fight by both girls. Was so worthy at a world title and just a shame it wasn't on one of the bigger shows so it could have got the foxsport exposer, had more action then most of my fights. Thanks to Ian Bronsan and Lucy Tui for making this world title possible.
Thanks to all the gyms that came and supported us today, was a little early in the year as most people are still enjoy their break but turned out perfect for us. Was so much better only having 11 fights instead of 30.
Thanks to all the fighters for stepping up, I think only one fight was stopped so good even matches.
Thank you to all my friends that came and gave us a hand, everything run smoothly and wouldnt be possible without your help.
Till next time. I got a feeling one of my belts is going to have to come down so Angie's can go up, where is the justice??